Quarterstaff (halber stangen) & Halberd
Head Trainer: Roger Norling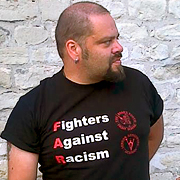 Roger is our head trainer for the Meyer fencing, i.e. dusack, longsword, dagger and polearms (quarterstaff, halberd and pike). He is one of the founding members of the club and is on the GFFG board as well. Roger also serves as Unterhauptmann for the Meyer Freifechter Guild, responsible for Region 8, covering most of Europe, with the exception for France, Spain, the UK, Ireland, the Netherlands, and Belgium.
Roger was a member of Gothenburg Historical Fencing School from 2008-2015 and there too sat on the board for several years. More importantly though, he there led a weekly class on Joachim Meyer's Halber Stangen, based on research he started in 2009. He also led a weekly study group in Meÿer's dagger during his last year.
Roger has also studied pedagogics and teaching methodology at university, alongside of studies in language and language history.
Since 2016 he is also the chairman of the advisory council of Acta Periodica Duellatorum, a highly distinguished academic magazine dedicated to the research of Historical European Martial Arts.
He usually teaches at 6-8 events per year and has taught some 80 workshops at 35 events and training weekends in Europe, the USA, and Africa, primarily focusing on 16th cent fencing master Joachim Meÿer's quarterstaff, longsword and dusack, all based on the research and training done in the GHFS class and commonly together with training partners and friends like Mattias Moberg  of the GFFG, independent fencer Robert Molin and Kevin Maurer & Chris Vanslambrouck of the MFFG.